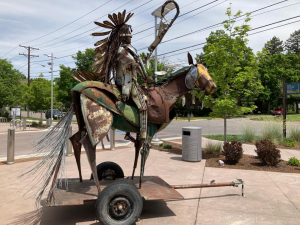 We are not a creative artist as Jay Laber who, famous for Reborn Rez Wrecks, takes junk cars and turns them into art.
All we do is recycle the cars we pick up from people that wish to get rid of their junk cars.
How we do this starts with a call or email from someone that wishes to have their car junked.
We make an offer depending on the car and come down to the persons location to view the car.
If the car is as described on by the person we then pay them the amount agreed upon and tow it away.
There is no cost for the removal and we pay cash for the old car you wish to junk.
The car is dropped off to a recycle yard and stripped of reusable components and what
s left is crushed as to recycle the metal.